Masterclass in Particle Physics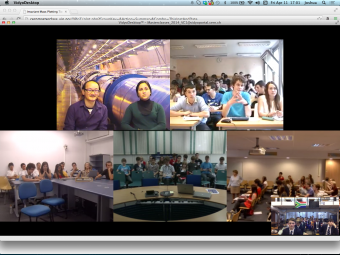 Screenshot of video conference at 2014 Masterclass
What is a MasterClass?
A MasterClass is a one-day-activity taking place at a university or research institute. Researchers invite high school students of age 15 - 19 years and let them be scientists for one day. The core activity is a measurement with real data from CERN, provided by the experiments ATLAS, CMS, and ALICE. The University of Cape Town hosts a MasterClass every year. Masterclasses are currently suspended due to Covid-19.
Schedule of the Day
09h30 - 10h00 .......... Registration and Welcome
10h00 - 12h00 .......... Presentations and Q&A sessions
Particle Physics in a Nutshell
The Large Hadron Collider and the ATLAS experiment at CERN
12h00 - 13h00 .......... Lunch break
13h00 - 13h45 .......... Introduction to measurement in particle physics
13h45 - 15h15 .......... ATLAS data analysis in computer lab
15h15 - 15h45 .......... Discussion of results and preparation for conference call with CERN
16h00 - 17h00 .......... Video conference with CERN and international groups
Video-conference with universities and groups from Brazil, and France
Helpful links
International MasterClasses 2015
ALICE
ATLAS
CERN Education


International Masterclasses is an initiative by the International Particle Physics Outreach Group, IPPOG.