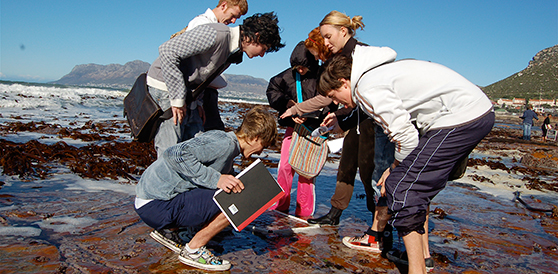 S -33.955533, E 18.460527 - These mark the geographical coordinates that pin point the Chris Hani Building, administrative home to the 12 departments that constitute the Faculty of Science.
The Faculty of Science is home to approximately 2 600 students, of which some 36% are postgraduate research students registered in the 12 academic departments – Archaeology, Astronomy, Biological Sciences, Chemistry, Computer Science, Environmental & Geographical Science, Geological Sciences, Mathematics & Applied Mathematics, Molecular & Cell Biology, Oceanography, Physics and Statistical Sciences. All departments are located on Upper Campus. There are about 185 academic staff and some 160 support staff who provide for our undergraduate and postgraduate students.
Undergraduate teaching is a cornerstone of our activities and the Faculty offers 20 different majors, with possibilities to co-major in subjects located in other Faculties. Our majors are loosely organised into three clusters – those in the biology, earth and environmental sciences, those in the chemical and molecular sciences, and those in the numerical and physical sciences. Details of the majors we offer and their home departments can be found here. Our Bachelor of Science degree leads naturally on to a number of different Honours degrees that relate to the undergraduate major(s) offered by the various departments. Details of Honours degrees offered can be found here.
The Faculty of Science prides itself on the high regard in which it is held by the international academic community, reflected in part by international world university and subject rankings. According to the latest QS rankings, the Science Faculty at UCT places in the band 51-100 top universities in the Earth and Marine Sciences and in the band 101-150 in the Biological and Environmental Sciences. In part, the national and international prominence of our staff is captured in the high number of researchers rated by the National Research Foundation (NRF) system as having leading or prominent international standing (18 A-rated, 64 B-rated, 60 C-rated and 7 P-rated). Much of this international recognition comes from the strong research programmes run by our Faculty staff, in collaboration with international colleagues, the rigorous doctoral programmes offered by the Faculty, and through the resultant research output. Research emanating from the Faculty is published by a mixture of 185 permanent academic staff, over 80 Honorary Research Associates, ~400 doctoral students, ~140 postdoctoral fellows, 14 South African Research Chairs, 14 Senior Scholars, and international collaborators from across the world. An important component of our research takes place through 16 formal university accredited intra- and inter-disciplinary research groupings, and an NRF Centre of Excellence, details of which can be found here.
University Research Fellows in the Faculty
A Fellowship of the University of Cape Town is the highest honour the university accords a member of the academic staff in recognition of research achievement. The following are current members of the staff of the Science Faculty who are Fellows of the University of Cape Town.
| | |
| --- | --- |
| Name | Department |
| Professor IV Barashenkov | Mathematics & Applied Mathematics |
| Professor S Bourne | Chemistry |
| Professor K Chibale | Chemistry |
| Professor A Chinsamy-Turan | Biological Sciences |
| Professor TJ Egan | Chemistry |
| Professor J Farrant | Molecular & Cell Biology |
| Professor G Janelidze | Mathematics & Applied Mathematics |
| Professor R Kraan-Korteweg | Astronomy |
| Professor HP Kunzi | Mathematics & Applied Mathematics |
| Professor AP le Roex | Geological Sciences |
| Professor BD Reddy | Mathematics & Applied Mathematics |
| Professor S Richardson | Geological Sciences |
| Professor E Rybicki | Molecular & Cell Biology |
| Professor JC Sealy | Archaeology |
Distinguished Teacher Award
The Distinguished Teacher Award (DTA) is the highest accolade given to teaching staff at all levels within the university and recognises excellence in teaching. The following are current members of staff of the Science Faculty who have received the award:
| | | |
| --- | --- | --- |
| Name | Department | Year |
| Dr MD Picker | Zoology | 1996 |
| Associate Professor IV Barashenkov | Mathematics | 1998 |
| Dr T Egan | Chemistry | 1999 |
| Dr S Oldfield | Environmental & Geographical Science                | 2002 |
| Dr A Buffler | Physics/ CHED | 2002 |
| Dr DW Gammon | Chemistry | 2003 |
| Dr B Davidowitz | Chemistry/ CHED | 2004 |
| Dr R Ackermann | Archaeology | 2006 |
| Dr MJ O'Riain | Zoology | 2008 |
| Dr G Smith | Chemistry | 2011 |
| Dr Z Woodman | Molecular & Cell Biology | 2012 |
| Associate Professor J Gain | Computer Science | 2014 |
| Dr S Wheaton | Physics | 2014 |
| Dr A West | Biological Sciences | 2015 |