Registration & Term Dates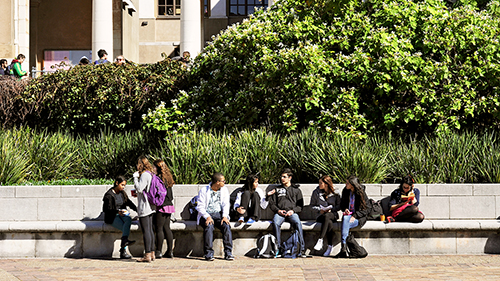 For term dates, please click here. 
Registration information 2022
UNDERGRADUATE STUDENT ORIENTATION & REGISTRATION
| | |
| --- | --- |
| 29 January 2022 | Residences open for all new students. |
| 31 January 2022  | Science Faculty orientation and registration commences  |
| 2 February 2022    | Compulsory orientation activities & registration for all new students |
| 14 February 2022 | First day of lectures |

Parents Orientation
This is an event organised for parents of first year students who have received a firm offer of acceptance to study at the University. It is traditionally a time when parents are introduced to UCT, and allows them to familiarise themselves with how the University operates.  It provides information on how the University is structured to offer the best possible learning environment, and also explains what students can expect in their first year of study.
Parents please refer to http://dsa.uct.ac.za/student-orientation/parent-orientation closer to the time for further information (dates and times) or contact the Communication & Marketing Office at Tel: 27 21 650 4436 or Fax 27 21 650 5628.               
UNDERGRADUATE RETURNING STUDENTS REGISTRATION
This applies to all students who have already been registered for a BSc at UCT prior to 2022 and who are academically eligible to continue in 2022 or have been granted a concession to return.
Registration will not take place on campus as usual.  Students will be required to register remotely using the PeopleSoft system, well in advance of the return to campus.  A detailed notification will be sent in January of how to register using PeopleSoft.  It is therefore important to continue to check your UCT email account. 
Registration Dates
The final results for the 2021 academic year will be released on the system on 22 December 2021.  Results of supplementary, deferred and summer term exams in January will be released on 28 January 2022.
All returning students who have no outstanding/ missing results by 20 January 2022 will be required to register remotely over the period from from 20 to 28 January.
Students with any outstanding results (those writing supplementary, deferred and summer term exams) will be required to register from 31st January to 3 February 2022.
All students must register in the appropriate period indicated above and not wait until returning to Cape Town.  Students who register late may face a late registration penalty of R2000.
For international students, clearance (i.e. visa, medical aid and fee checks) will also be done remotely.
Students with outstanding fees
You will NOT be allowed to register until your fee account has been settled.  Please note that South African students can register before making the initial payment.  All international students must make payment before registration.  For further fee related information, refer to 2021 fees payment dates
Lectures start on Monday 14 February 2022
Page last updated: 3rd February 2022