UCT rated third in World University Rankings for Ornithology!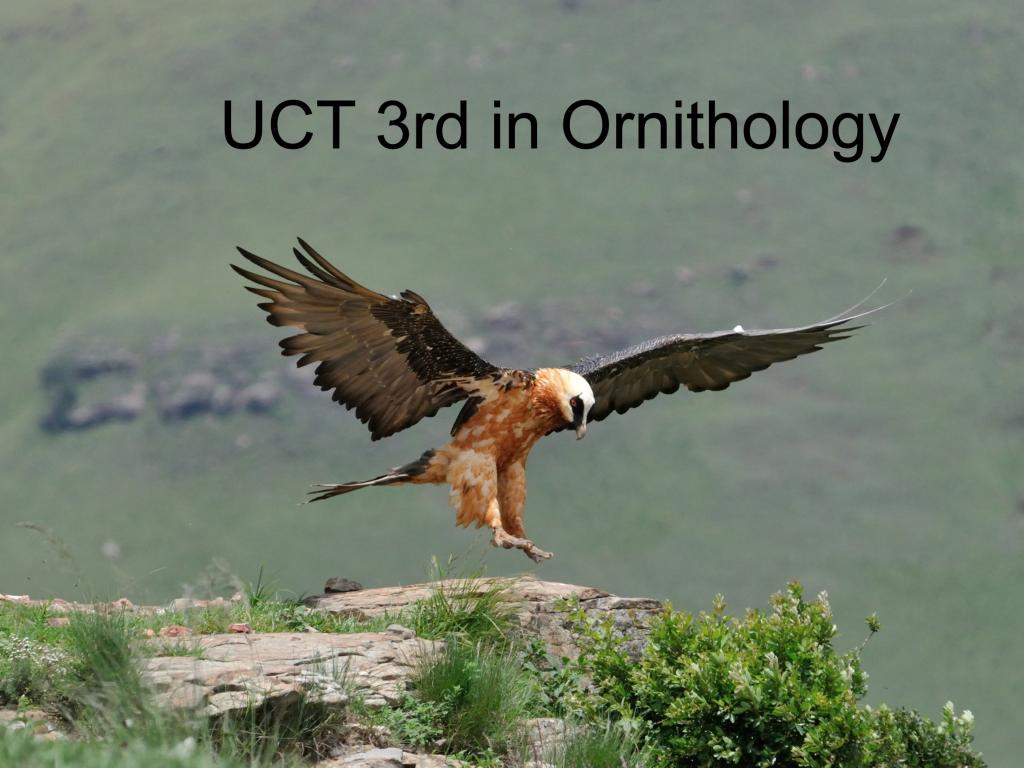 The Centre for World University Rankings (CWUR) on Monday, 3 April 2017, released their inaugural subject rankings which placed the University of Cape Town (UCT) third in Ornithology out of over 26 000 higher education institutions. Overall, UCT was ranked 166th among the participating global institutions.
For Ornithology (the study of birds), UCT was ranked third globally, along with Lund University in Sweden, which received the same ranking score as UCT (90.22). University of Groningen in the Netherlands and Cornell University in the USA were ranked first and second, respectively. 
These rankings highlight the world's elite universities in the sciences and social sciences, based on the number of research articles in top-tier international journals. For more information visit the CWUR website.
Prof. Mamokgethi Phakeng, Deputy Vice-Chancellor for Research and Internationalisation, says: "UCT is very proud that our scholarship in this field has been internationally recognised. Having universities that rank globally (including other South African universities) benefits the country as a whole. It sends a message that the country's higher-education system is globally competitive".­­­­
"The high ranking in this field demonstrates that African researchers can take the lead in helping to solve African problems, and also that they are bringing a strong African voice to global debates."
Prof. Peter Ryan, director of the FitzPatrick Institute of African Ornithology (Fitztitute), says: "This is great recognition of the contribution that researchers at UCT make towards ornithological studies. The fact that UCT is so prominent in ornithological research provides further validation of the success of the National Research Foundation (NRF) Centre of Excellence funding model."
Prof. Phakeng adds: "As a university, we are grateful to the NRF for the funding that we've received to enable much of the work that has happened in this area, putting South Africa and the continent on the map. It is investments such as these that will help to make the issue of African biodiversity visible globally. "
In addition to the Fitztitute, the Animal Demography Unit (ADU) and the Centre for Statistics in Ecology, the Environment and Conservation (SEEC) have strong interests in bird-related research, giving UCT a critical mass of ornithological researchers and research expertise unmatched in the southern hemisphere.
Prof. Ryan says: "Southern Africa has a wealth of bird life, making it an excellent place to study bird biology. Our birds also face numerous threats, so much of our research is aimed at conserving birds and their habitats for future generations. We work closely with BirdLife South Africa, a leading environmental non-governmental organisation."