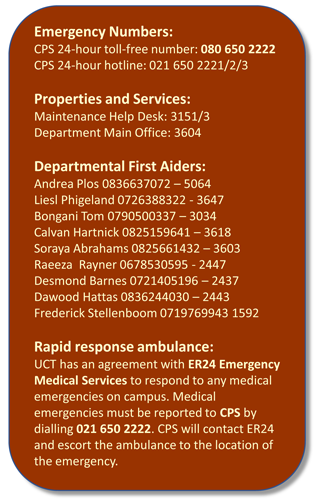 The Department aims to provide a safe and healthy work environment where all risks are well managed and reduced to an acceptable level by taking reasonable precautions. We also aim to adopt a sensible approach to risk management (listed below). The departmental Health & Safety web pages are the primary source of safety advice for the Department of Biological Sciences. Please don't hesitate to ask for more advice and guidance and remember that it is the responsibility of everyone to think about the safety of their workplace
Principles of sensible risk management:
adopt a pragmatic approach which encourages risks to be managed in a sensible, responsible and proportionate manner in line with all relevant regulatory requirements (OHS Act No. 85, 1993)
focus on the effective management of real risks- including those that are most likely to cause serious harm and those which are likely to happen more frequently
promote a system that focuses on practical steps to protect people, not paperwork for its own sake
application of careful judgement to ensure appropriate application of regulatory requirements
promote a safety management system that encourages those responsible for generating the hazards to take ownership and management of the hazards
effectively engaging with the very people we rely on to make informed, reasoned judgements on safety matters
operate a blame free safety culture which encourages a process of continual improvement
discourage a management style that, a) primarily focuses on bureaucratic back covering which can generate an atmosphere of paranoia, and b) one that discourages honesty and openness on safety issues
ensure that the level of risk to an individual's health and safety that results from working for the Department of Biology is a minor fraction of the overall risk associated with that person's lifestyle
Occupational Health and Safety Act
The OHS Act No. 85 (1993) provides for the health and safety of persons at work and for the health and safety of persons in connection with the use of plant and machinery; the protection of persons other than persons at work against hazards to health and safety arising out of or in connection with the activities of persons at work; to establish an advisory council for occupational health and safety; and to provide for matters connected therewith. [ Read more ]
Health and Safety Representative:
The appointed H&S Representative in terms of section 17 of the Occupational Health and Safety Act No. 85 (1993) is Liesl Phigeland (John Day Building, Room3.13, ext 3647). The functions of the H&S representative are defined in section 18 of the OHS Act.
Who to contact regarding health &safety issues
Depending on the nature of the query you should contact the appropriate person listed below.
Incident / Injury reports:
If you have an accident, it is your responsibility to report the nature of the accident to the H&S Representative Liesl Phigeland or your line manager/supervisor.
General health and safety concerns:
Employees and students are encouraged to report safety concerns to their supervisor/teaching staff. If employees or students do not feel they can do this or have done so and do not feel the problem has been resolved, they may discuss the situation directly with the departmental H&S Representative Liesl Phigeland (John Day Building, Room3.13, ext 3647).
Security:
Your first point of contact is Campus Protection Services (CPS), on extension 2121 for the upper campus office or 2222 for the main control office in lower campus. During working hours make sure to report the incident to Ms Petra Muller (J Day Building, ext. 3623) or Mr Gonzalo Aguilar (HW Pearson building, ext. 2436). There is comprehensive information on the topic of safety and security in the university web site at: Campus Safety
Fire:
In the event of a fire press the nearest "break-glass" unit and immediately notify Campus Protection Services ( ext. 2121 or 2222) and the corresponding building evacuation controller:
J Day Building
Claire Khai (ext 3604)NSLT Building
Andrea Plos ( NSLT CB and AMS labs), 083 663 7072 - 5064
HW Pearson Building
Desmond Barnes (HW Pearson building), 0721405196 – 2437
Dawood Hattas (HW Pearson building, 0836244030 - 2443
First Aid:
The Department makes sure that appropriate first aid arrangements are in place for staff, students and visitors. This includes the provision of adequately stocked first aid boxes in several areas of the Department, appointment of trained First Aiders to adequately cover activities both within and outside the Department buildings. First aiders that you can contact during office hours in the department buildings are:
J Day Building:
Andrea Plos 0836637072 – 5064
Liesl Phigeland 0726388322 - 3647
Bongani Tom 0790500337 – 3034
Calvan Hartnick 0825159641 – 3618
Soraya Abrahams 0825661432 – 3603
Raeeza  Rayner 0678530595 - 2447
HW Pearson Building:
Desmond Barnes 0721405196 – 2437
Dawood Hattas 0836244030 – 2443
Frederick Stellenboom 0719769943 1592

Please check the policy on First Aid for additional information.
Radiation:
Each department where ionising radiation is used has a Radiation Protection Officer (RPO) appointed by the University Radiation Committee to oversee the safe use of ionising radiation within their department. The Biological Sciences Departmental RPO is Professor Michael Cramer (HW Pearson building, Room 3.20, ext. 2444).
Material safety data sheet
Recommended sites for finding MSDS are:
Structural & Electrical:
To report an electrical or structural fault you can contact the maintenance help-desk on extension 3151. Make sure that you obtain a reference number for your call so we can track actions on the maintenance request.
Safety Policies & Practices:
Health and safety policies and procedures are described in several documents dealing with different aspects of the departmental functions. This list is the primary source of safety advice for the Department of Biological Sciences and we encourage you to familiarise yourself with these practices and regulations.
Safety Inspections:
To maintain our commitment to safe work practices, and to ensure that our department continues to meet regulatory standards, our Health & Safety Committee arranges four annual inspections of work areas to check for unsafe conditions and practices. This is in addition to other inspections conducted by University of Cape Town. We consider these inspections an additional opportunity to provide practical training in safety awareness as well as a systematic method for involving supervisors and others in the process of reducing workplace hazards. Our department uses the "Laboratory" and "Office" Safety Inspection forms.
Departmental Health & Safety Committee
Professor Michael Cramer, Radiation Protection Officer
Ms Liesl Phigeland, Departmental Health and Safety Representative
 Mr Dawood Hattas
Mr Desmond Barnes
Mr Bongani Tom
Mr Frederick Stellenboom
Ms Isabella Gongota